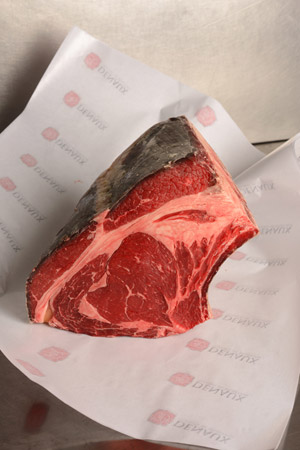 Aging by Denaux
The House of Denaux, the exclusive aging house for the beef of Charolles among others, has over the years known how to put into place the indispensable criteria for this delicate process, which goes like this:


Selection of an exceptional meat worthy of the aging process.
Creation of a space specifically dedicated to aging.
Mastering to perfection the appropriate technology, in this case cold storage rooms especially conceived by specialists in meat preservation and cheese aging to control the temperature, humidity and the ventilation.
Meticulously follow the successive steps in the maturation process whose parameters will vary depending upon the nature of the meat and its reaction to aging.
Better express the sensory elements of the meat.
The results are remarkable in several ways:
An improvement of up to 40 percent in tenderness
Economical as well, as it prevents the loss of poundage
Respect of the inherent microbiological qualities.