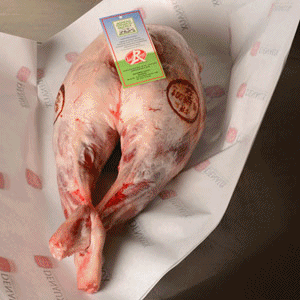 Red Label Quercy lamb
Raised on the limestone plateaux of the Quercy region with their almost Mediterranean vegetation, fed on their mother's milk in small, traditional stone dwellings, the lambs of Quercy have unusual "black spectacles" around their eyes.

The free-range lamb of Quercy gives the guarantee of succulent meat to stalwart gourmets. The quality of this breed of the plateaux is such that it was the very first to have obtained the Red Label in France.

The lamb is born of the breed "Causses du Lot", raised, fattened and slaughtered in a well-defined area, the Lot and the neighbouring counties of the Corrèze.

All of the lambs are slaughtered in Gramat where at the slaughter house a demanding selection enables only the best to receive the label.

The know-how of Denaux resides in the advantage inherent to this production, it is not seasonal so the lambs can be raised 100 days throughout the year, with an aroma that is mastered, neither too weak nor too strong, 52 weeks of the year.

Our certified carving workshop guarantees regular traceability inspections by official bodies – Qualisud and Certilim. We manage the carving of all of the lambs because we only purchase whole carcasses.