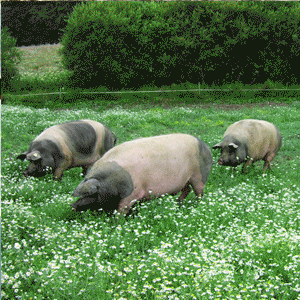 The black bottomed pig of the Limousin region
Once known as the pig of "Saint-Yrieix" the black-bottomed pig of the Limousin has lived for several centuries in the west of the Massif Central Mountains.

It is a pig similar to the Iberian, lively and alert used to searching for its food in natural settings. So as to revitalize the production, the breeders opted for using traditional methods, the animals roam freely, and are fattened with chestnuts and slaughtered at 18 months.

Its savoury meat is an integral component in the Denaux selection.
This pig is an exception, it is the only beast capable of producing such an exceptional amount of fatty bacon with a proportion of 2/3rds of bacon for 1/3 meat at 18 months.

A favourite in households in the 19th century – there were 300,000 head in 1830 – it had nearly disappeared by the end of the 20th century – there were only 120 sows in 1980. At Denaux, we leave the hams and the bellies (to become pancetta) in the Limousin to retrieve them several months later: 18 months for the hams, 12 months for the pancettas, because as is often the case, time adds to the taste.

Some have even called them the "Kobe of the pigs", referring to the Kobe beef of Japan. It is one of the last six authentically French breeds whose essential quality lies in the extremely high quality of its bacon, so sought after by chefs, the fat is the key to the taste.

Which is quite the opposite to ruminants, for when a pig is raised in natural conditions the savours of its sustenance are returned to its meat, in this case the flavour of chestnuts.