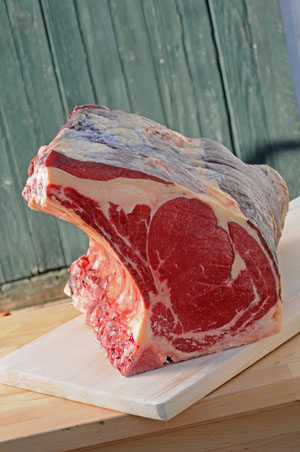 Charolles AOC* beef – aged exclusively on our premises
It was on September 2, 2010, that the beef produced in Charolles—lost for so long amidst the plethoric production of Charolais beef (the breed of cattle as opposed to the region) -- received its controlled designation of origin label. A controlled designation of origin that guarantees not only the breed of the animal but also and above all the boundaries of the region (Charolles in southern Burgundy), in which it can be raised and the methods for raising it.

Famous since 1772, the fine reputation of the breed contributed to it travelling away from its natural birthplace. This AOC is today an opportunity to take a look at all of the noble qualities of this sumptuous meat, its unique marbling, its delicate texture, its refined grain, its remarkable juiciness. Taste wise, rich and complex aromas with well-developed cereal and animal notes add up to meat that is on every level exceptional.

If Jean Denaux talks about meat the way one talks about a fine wine, it is the notion of the land itself that is essential here. The region of the Brionnais, between the course of the Loire and the Monts de Beaujolais, distinguishes itself through its curvy meadows, its flood valleys sitting upon land of clay soil which are perfect for retaining moisture and allow for the "blossoming" of the herds in ideal conditions.

Animals raised according to their natural rhythms while respecting the earth give us several months or several years later a product that has reached its peak without being rushed, a meat of optimum quality in terms of taste and tenderness. The Denaux selection is the richness of the product guaranteed by traditional methods.

*Controlled designation of origin.