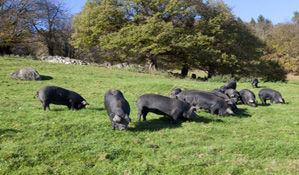 The black pig of the Bigorre
The Bigorre Black is a pig that is completely black in colour, saved in 1981 by a group of livestock breeders. This is a pure breed of Gascony. The way it is raised and transformed is found in the traditions of the region.

Its marbled meat and the quality of its fat make for very typical cold cuts with an exceptional savour.

The meat of the Gascon pig, raised in the strict, official conditions of the Bigorre Black, is generally eaten medium rare and hence proffers remarkable gustatory qualities. We have cuts with and without fat, from the most noble morsels to the lower cost cuts.