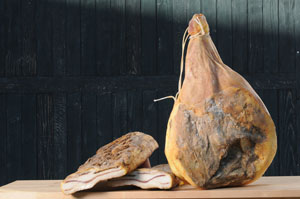 Authentic cold cuts
The House of Denaux also produces cold cuts using the meat of the black bottomed pig of the Limousin and distributes the Salaisons Pyrénéennes (fine cold cuts from south western France).

The house is also the distributor in France of the DOPs (Italy's controlled designation of origin) Culatello di Zibello, Coppa, Pancetta and Parma hams.

The Culatello di Zibello, the king of the Parma hams, is produced exclusively on the land that stretches from the right bank of the Po with its damp winters and humid summers.

Made from the finest portions of the pig, which is raised in a thoroughly traditional manner, the Culatello (rump) with its characteristic pear shape, from being wrapped a thin pig bladder, is produced only in the winter and is aged at least ten months in the humid cellars of our exclusive producer.

He in fact re-launched the husbandry of ancient pig breeds, including the Nera Parmigiana. The House of Denaux also distributes the meat of the Iberco Bellotta pig of the firm of Monsalud, which was named the finest controlled designation of origin Iberian ham.